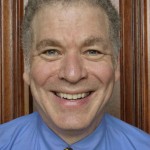 Jeremy Berg received his B.S. and M.S. degrees in Chemistry from Stanford and his Ph.D. in Inorganic Chemistry from Harvard. He then became a Postdoctoral Fellow in the Department of Biophysics at Johns Hopkins University School of Medicine. He started his independent career as an Assistant Professor in the Department of Chemistry at Johns Hopkins University in 1986. After four years, he was recruited back to the School of Medicine as Professor and Director of the Department of Biophysics and Biophysical Chemistry.
He remained in this position until 2003 when he moved to become the Director of the National Institute of General Medical Sciences (NIGMS) at the NIH. He oversaw a budget of approximately $2 billion per year focused primarily on basic biomedical research and research training. He led a wide range of trans-NIH activities including the NIH Director's Pioneer and New Innovator Award programs. He also pushed NIH to become substantially more transparent and opened up new lines of communication between the NIH and the scientific community, including through social media, particularly the NIH's first director's blog, The NIGMS Feedback Loop.
He served at NIH until July 2011 when he moved with his wife Wendie Berg, M.D., Ph.D., a leading breast imaging researcher, to the University of Pittsburgh. He became Associate Senior Vice Chancellor for Science Strategy and Planning in the Health Sciences as well as Professor of Computational and Systems Biology. In 2013, he became the founding director of the University of Pittsburgh Institute for Personalized Medicine.
His research interests include the roles of zinc in proteins including zinc finger proteins, the mechanisms and systems biology of protein targeting to peroxisomes, and the development of detailed thermodynamic understanding of molecular recognition processes. He is the co-author of more than 130 scientific publications, four textbooks (including four editions of the Biochemistry textbook first written by Lubert Stryer) and a book on how best to interact with NIH, written with Michelle Kienholz.
He has been recognized for his accomplishments with awards including the American Chemical Society Award in Pure Chemistry, the Eli Lilly Award for Fundamental Research in Biological Chemistry, the Barry Wood Award for Preclinical Teaching, the Graduate Student Teaching Award at Johns Hopkins School of Medicine, selection as a Fellow of the American Association for the Advancement of Science, election to the Institute of Medicine of the National Academy of Sciences and public service awards from the Biophysical Society, the American Society for Biochemistry and Molecular Biology, the American Chemical Society, and the American Society for Cell Biology. He served as President of the American Society for Biochemistry and Molecular Biology from 2011-2013. He continues to be active in science policy including through his blog Datahound (http://datahound.scientopia.org/ ). He can be reached at jberg@pitt.edu and @jeremymberg.
Return to main Steering Committee Bios page >>